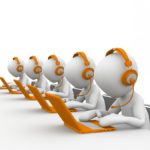 1. Immediacy and Aptness
Every customer is looking for a solution that should be apt and immediate. The agent has to be well aware of customer's problem to make the conversation more customer friendly. With a flawless focus on customer needs, the agents can be trained well for making a result-oriented communication that ends up with a satisfied customer.
2. Communication Vibes The language that is used by the agents is one of the most vital factors as it should connect well with the customer's understanding. The words that are being used by the agents should be well acquainted with the customers and the agents should try to avoid any jargon and should try to talk in a language preferred by them.
3. Expert Opinions A customer looks for an appropriate solution and that too in the least time invested and the idea is to make the situation fruitful for the customers as well as the service provider. When the expert opinions are involved then the level of the solution given to the customers get totally a different edge and in this way, the satisfaction level of the customer increases.
4. Agent Training Agent training is another factor that helps in improving the way agents deal with the customers over the phone. So, time to time training and grooming helps in developing better ways to deal with the customers.
5.IVRs and Other Self-Help Tools Customers like to find a solution to their problems on their own and in this way, it becomes totally a new perspective to problem-solving. The idea is simple as the customers are looking for a solution that comes effortlessly. Such self-help tools make the customers more inclined towards finding a solution without contacting a live agent as it saves the time and efforts of the customers.